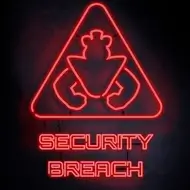 Free download
FNaF 9: security breach
4
Version

4

Requires Android

5.0 and up

Size file

100 Mb

Category

Publish Date

Views

1 265
Download FNaF 9: security breach free on Android
Description
SecBreach: FNaF 9 - The ultimate immersive horror franchise where animatronics come to life."

Enter the terrifying world of SecBreach, the amateur version of the ninth installment of the iconic horror saga, where you take on the role of Gregory, desperately fighting for survival in the tangled maze of a sinister shopping mall. You have incredibly dangerous tasks to complete, try to stay alive and find your way to freedom, while the incessant threat hangs over you in the form of vicious creatures ready to tear you apart.

A happy coincidence brings you together with Freddy, an iconic character from the franchise, who opens his secret compartment, hiding you there in the hope of saving you from the nightmarish creatures.

The current version of the game features an exciting single-player adventure, but the developers plan to expand the functionality so you can enjoy a full multiplayer mode and play with your friends.

Become part of the iconic FNaF franchise and immerse yourself in the thrilling and atmospheric game SecBreach: FNaF 9, which perfectly captures the atmosphere of horror and tension, sending shivers down your spine. Keep exploring and overcoming creepy challenges, don't forget to keep your eyes and ears open, because every step could be your last in life. Be prepared for an incredible mental and physical battle for survival that will make your heart pound with terror.